You are here
Straw
News
by

power

on Wed, 06/18/2014 - 01:25
Image: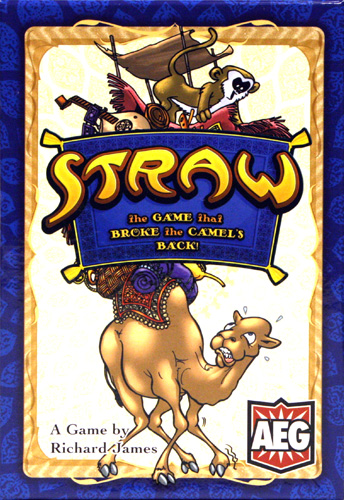 # of Players: 2 − 6
Playing Time: 30 minutes
這是一隻非常簡單的 Card Game,5分鐘教學。每人4隻手牌,每回合要打出一隻到駱駝上,加上該牌的數字到總和上,超過50的玩家即輸,因為這隻駱駝只可負重50。有功能牌可救命如負數,倒轉方向 R, 1 至10 任選 X等。一人爆了後,其餘玩家便可得到手牌上的總中為得分。簡單、快速、有趣、值得一玩。
Straw is a light-hearted family card game that takes place in the world of Arabian Nights. In Straw, you try to pack as many items as you can on top of a camel without breaking its back. If you can't, you lose the round – but other players must be careful not to load the camel too close to its limit because if you can break the camel's back with the Straw card, you win instead of losing!
Will you be the one who breaks the camel's back?